Louisville Alzheimer's and Memory Care
Living with memory loss, Alzheimer's disease or dementia can be overwhelming. At Morning Pointe of Louisville memory care community, we are here to help your loved one and your whole family by providing around-the-clock, secure care and purposeful programming with an individualized focus. Here, we combine innovative technology and Meaningful Day programs with the knowledge of a professionally licensed nursing staff and memory care support team. Every aspect of our Louisville, KY, memory care community, from the overall open building layout, to each spacious apartment, to the color of the paint on the walls is designed to comfort, stimulate and engage promoting independence and enhancing quality of life.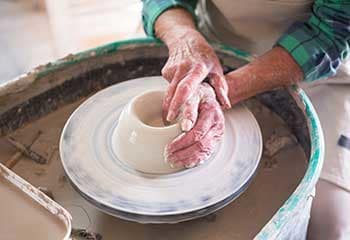 Create Meaningful Days
Our number one goal at Morning Pointe of Louisville memory care community in Louisville is to create fulfilling and purposeful days for each resident that focuses on remaining abilities and celebrates successes. With that focus, we have designed the Meaningful Day, a specialized technique in memory care that involves truly understanding each individual resident. With the knowledge of their life experiences, interests, prior roles and routines, we develop a personalized plan of care and activity that enhances quality of life.
SimpleC
In addition to our Meaningful Day programming, we have also incorporated the use of SimpleC Companion™, an intuitive touch-screen device that promotes engagement for seniors, better communication and helps with memory. It works with SimpleC's Community Connect and Care Portal to provide key visual cues, such as photos of food and certain daily activities along with favorite snapshots of family, friends, and places. All of the pictures prompt positive steps that help move the seniors through their day. It also helps memory and is useful for redirection and calming.
For a better understanding of our full spectrum of memory care services at Morning Pointe of Louisville, Kentucky, please contact us today.